Seke Chimutengwende
plays Saffron Hill's recently ex-boyfriend, Floyd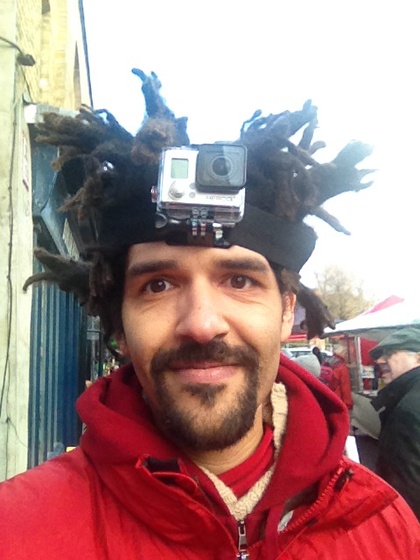 His character moves on from their failed relationship in a more positive way than Saffron is yet able to do. Often on his bicycle, through his eyes we see alternative ways of experiencing the city, especially in
Floyd's bike ride through Hackney
and
the Broadway market scene
Seke works in dance as a choreographer, performer and teacher.
He trained at Lewisham College and London Contemporary Dance School and since 2004 has performed internationally in the work of Alias, Gaby Agis, Trisha Brown, Laila Diallo, Dog Kennel Hill Project, DV8 Physical Theatre, Fabulous Beast, Rannva Karodottir, Vangelis Legakis, Karl Jay Lewin, Lost Dog, Giuliana Majo, Rick Nodine, Amaara Raheem, Gabriele Reuter, Punchdrunk, Tino Sehgal, Julia Schwarzbach, Ruby Worth, Jose Vidal and Zephyr in Zanussi.
Seke has been practicing and performing his own solo improvisation work since 2006 and has performed ensemble improvisation with Neat Timothy, Trumpet Creepers and The Stranger Than Fiction Collective among others. Seke co-curated Stranger Than Fiction, a monthly platform for improvisation in performance from 2009 to 2012 and has regularly presented Late! Night Solos in collaboration with Rebecca Mackenzie at The Hen and Chickens Theatre since 2011.
Seke regularly teaches improvisation at London Contemporary Dance School, The Rambert School of Ballet and Contemporary Dance, Northern School of Contemporary Dance, Independent Dance and Greenwich Dance. He has been a mentor on the MA in Advanced Theatre Practice at the Central School of Speech and Drama since 2011 and also runs his own independent improvisation classes and workshops.
Seke has so far created 4 pieces for his own company, Seke Chimutengwende & Friends: Mr Lawrence, The Time Travel Piece, 45 Dances for the People of Ham and King Arthur.
http://www.sekechimutengwende.com/
Back to all cast